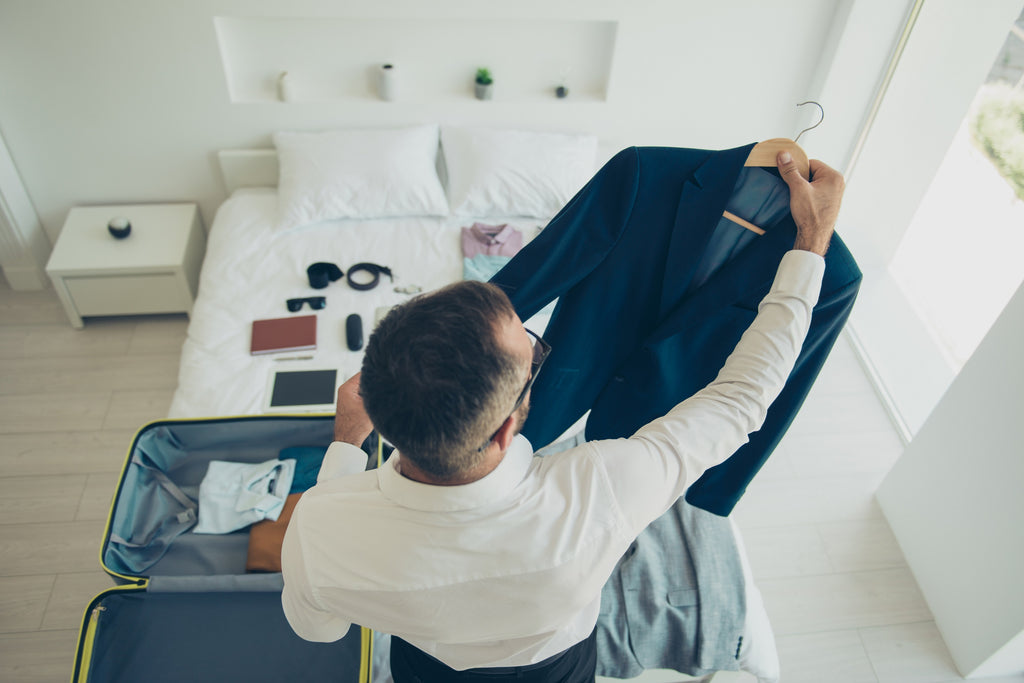 Having troubles with what to pack for your upcoming business trip? Maybe it's been a while since you've been able to visit new places. Business trips in 2021 can become a bit hectic due to newer and stricter travel protocols. However, these concerns should not stop you from acing your business trip.
Want to look great on your business trip? We got you! Read on to check out the ultimate business trip packing list for working millennials - so that you stay comfortable and safe.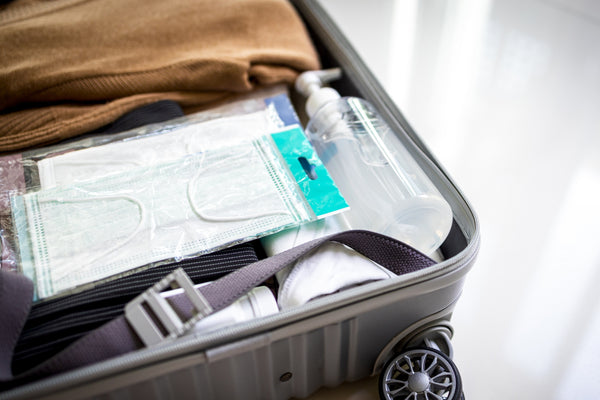 Clothes & Masks
Many people believe that what you wear is how you present yourself to the world. When packing for your business trip, you need to prepare the most appropriate clothes.
One must-have outfit you need to pack is a comfortable and well-fitted men's suit. Nothing says professional and reliable better than well-thought-of business attire. A good suit is a classic men's fashion staple because of its versatility and simple elegance. When you buy a suit for business trips, it's crucial to have a suit that can pack well and doesn't wrinkle or pick up bad smells, like an xSuit.
A key to any business travel is to travel as light as possible. Hauling a big and heavy suitcase isn't efficient when you're going to multiple places during your trip. You can also check on the weather of the place you are going during the days of your trip, in order to pack better.

Want an easier way to pack clothes for business travels? Consider packing clothes that you can mix and match. This allows you to compose various outfits for after-work hours and downtime. For this purpose, a couple high-quality and durable t-shirts are great to have.
In 2021, traveling will surely require a comfortable and protective face mask, especially on airplanes. Be sure to get a mask that is safe, and good for your style and needs. Also, be sure to get some back-up filters, so that you can switch them out at any time and stay protected.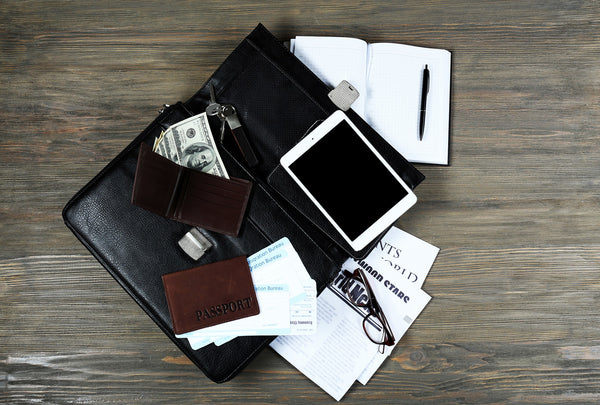 Documentation & Money
Before any business trip, you need to prepare the required travel documentation. You need your passport in your carry-on bag on the night before your trip.
Check your wallet to see if all your bank and credits cards are there. Ensure to put enough money bills to use if you get in a bind with any of your cards. Prepare bills in the currency of the country you are, or are going to. This covers you if you need to make emergency purchases in places that do not accept card payments.
Because of the pandemic, local governments now require extra documents for outside visitors. Different countries have different documentation requirements for travelers. Ensure to check on what those documents are and prepare them beforehand.
One of these are vaccination papers. This proves you have completed the dosages of the vaccine. You will also need a medical certificate that states you're clear to travel. You may also need to prepare your boarding process and proof of accommodation. Some states may require you to have your transportation rental information.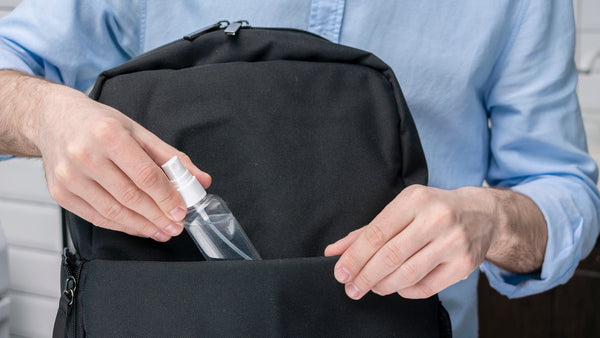 Medication & Toiletries
When packing for a business trip, it's good practice to pack your own toiletries. Some hotels may offer free toiletries like toothpaste, toothbrush, shampoo, and soap. However, it's still better to pack your own. Some freebies may consist of harsh ingredients that can aggravate sensitive skin. Placing liquid toiletries in travel-sized bottles prevents spillage.
During your flight, it's good practice to put liquid toiletries in a ziplock bag. Liquid can expand and spill when there is a change of pressure in the air. A ziplock bag ensures that your belongings stay dry and safe.
There may also be times during your business trip where you may have little to no downtime. Packing a bottle of dry shampoo and deodorant wipes can help you look and feel fresh even if you don't take a full shower. Keep in mind to pack some wet wipes, sanitizer, and tissue in your carry-on.
It's also vital to pack prescription medication for your trip. You may also pack over-the-counter medication in case you don't feel well during the trip. This includes medicine like ibuprofen, paracetamol, and activated charcoal.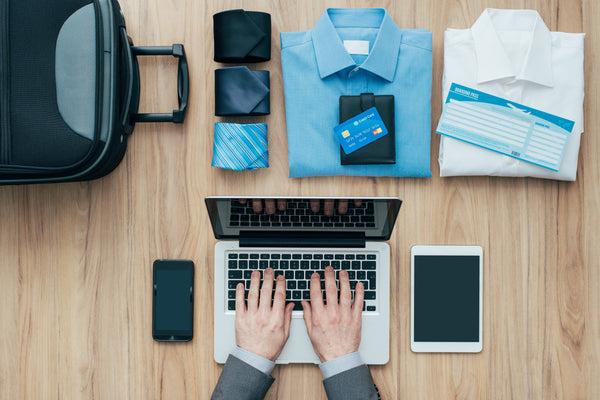 Gadgets & Other Electronics
It's unlikely for you to forget your phone and laptop for your business trip. However, ensure that you haven't overlooked and forgotten your gadgets' chargers. You should do a full baggage check the night before your trip to make sure you have everything packed and ready. It's good practice to pack a portable charger or a power bank for emergencies. You may also pack a portable WiFi hotspot as a backup in case you need to go online.
When you're traveling abroad, research what type of sockets and voltage they use. This lets you know if you need travel adapters or voltage cases for the safety of your gadgets. Preparing a VPN is also useful if you need to access websites censored by the country or on your company's private network. It also protects your personal information like passwords, documents, and accounts.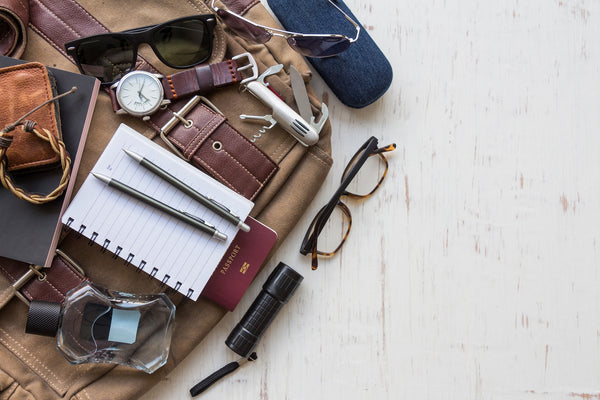 Other Traveling Accessories
Carry a reusable water bottle to stay hydrated and avoid unnecessary plastic wastes. If you're traveling out of state, ensure to check the weather. Keep a windproof travel umbrella with you in case of isolated rain showers.
Not only that, it's important to bring a set of pens and a notebook during your business trip. Write down any important notes that might occur during your meetings and events.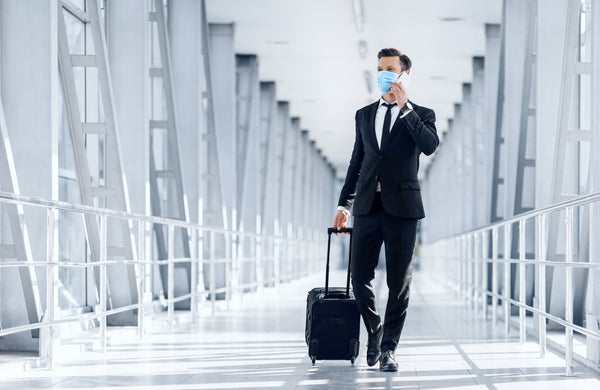 Get Going!
That's our guide to the ultimate business trip packing list. Now that you know what to prepare, it's time to get packing!
Want to look your best for an important business trip? Browse our products to buy what you need for your journey ahead, our 
check out our blog
for some great tips on men's fashion and more fashion advice!